Where can I buy Malarky?
Bonjour!
In Canada and the US.
You can buy Malarky from your local Independent bookshop.
You can buy Malarky from Barnes & Noble, since it was a Barnes & Noble Discover Great New Writers Pick. If they don't have it ask them to ORDER it. Point out it was one of their Discover picks.
ONLINE.
You know where you can buy it online. THAT PLACE. It's available instantly as an ebook. And ebooks are dandy things. I like them very much.
In THE UK/IRELAND/AUSTRALIA/NZ/INDIA/SOUTH AFRICA
WH SMITHS currently have or had a promotion featuring the new bold pink and cow Malarky cover. Rush out and buy it before they return all the copies.
So many excellent Indie bookshops in Ireland and the UK have this book or will immediately get it for you.
In Dublin the shop Dubray Books on Grafton Street were great at having it on the shelves when no other bookshop did. As this pic amply demonstrates Our Woman snuggling Dave Eggers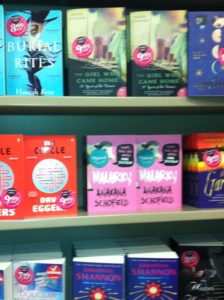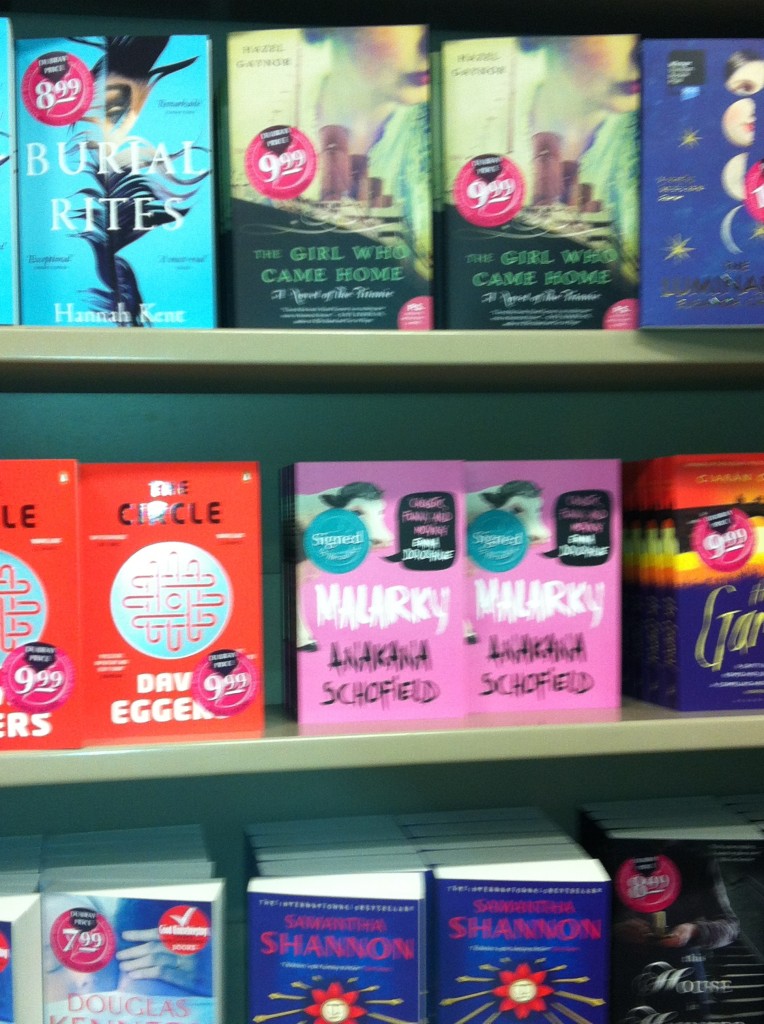 Easons should also have the book — if they don't bang the counter and ask them to order it. I have heard reports of people finding no sign of it in the shop.
In Galway, CHARLIE BYRNE'S BOOKSHOP will hand you a copy of this book is 43 seconds.
Please send reports of struggles to find or obtain a copy so I can chase it up with the publishers and distributors. There's nothing worse than a reader not being able to lay their hands on a copy of  a book. Together we shall overcome!
In France, specifically Paris, you can find it at Shakespeare and Company — since several people have sent nice photos of it nesting happily beside fine writers.
Libraries: if you look for the book and your library does not have a copy please, please request your library BUY a copy. All library patrons can request libraries buy books there's usually an online form to do so. You will need your library card number to submit a request. If you don't want to wait, then also buy your own copy. You have done two most excellent deeds because the next person who looks will find it in the library.
Whoever you are, where-ever you are may you have a life full of palm trees and happiness and good snacks (*) after buying and reading this book.
* This is not a scientific guarantee but studies show that engagement with challenging thought provoking and form bending literature only ever enhances one's life.
Thank you / Merci!