Hello America, Bina has landed. Find out if you love or loathe her by buying her here Then buy another copy + give her to someone you love or loathe…

Read Katy Waldman's extraordinary review of BINA in the New Yorker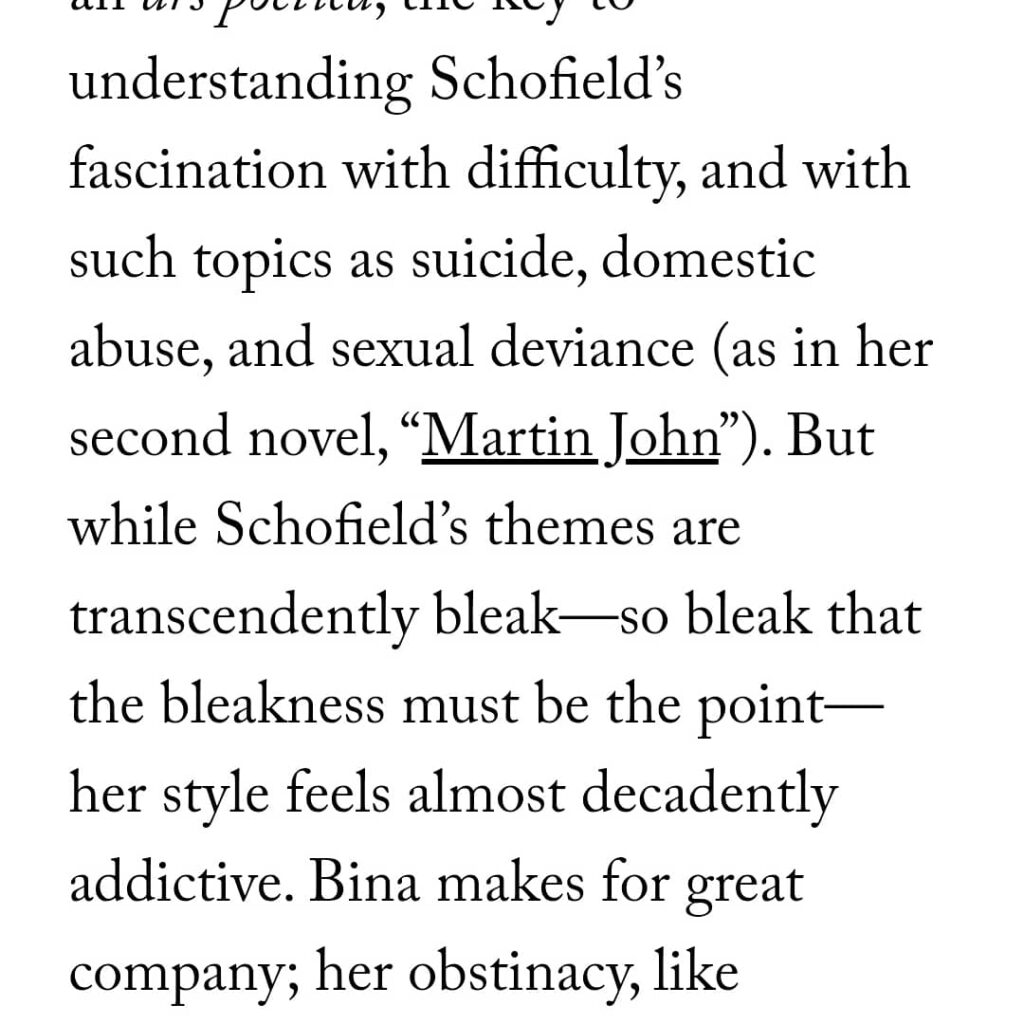 The New York Times Loves Bina
"Bina" is a bitterly funny novel but one that carries moral weight. Ultimately much of its energy comes from the simple subversive act: making a woman's life matter, making her voice be heard. As Bina puts it: "So if you are listening to a woman / Hoping she'll shut up / Try imagining the 2,000 years / Where she did all the listening. / Sit down / Shut up / And if the woman is talking, listen." read Evie Wyld's review here
The Minneapolis Star Tribune Loves Bina even more than the New York Times.
A bleakly comic feminist outcry explores the absurdity of the expectations placed on women.
"In the vein of Rachel Cusk or Clarice Lispector from whom she draws one of her epigraphs, Schofield uses her book's inventive structure to deliver a story that's biting, bitter and rife with dark humor. Relentless in her tone of alarm, like a warning bell or a warning shot, Bina's words will leave your head ringing." Read Kathleen Rooney's review here.
The Wall Street Journal seem very glad Bina had her say
Read Sam Sacks review here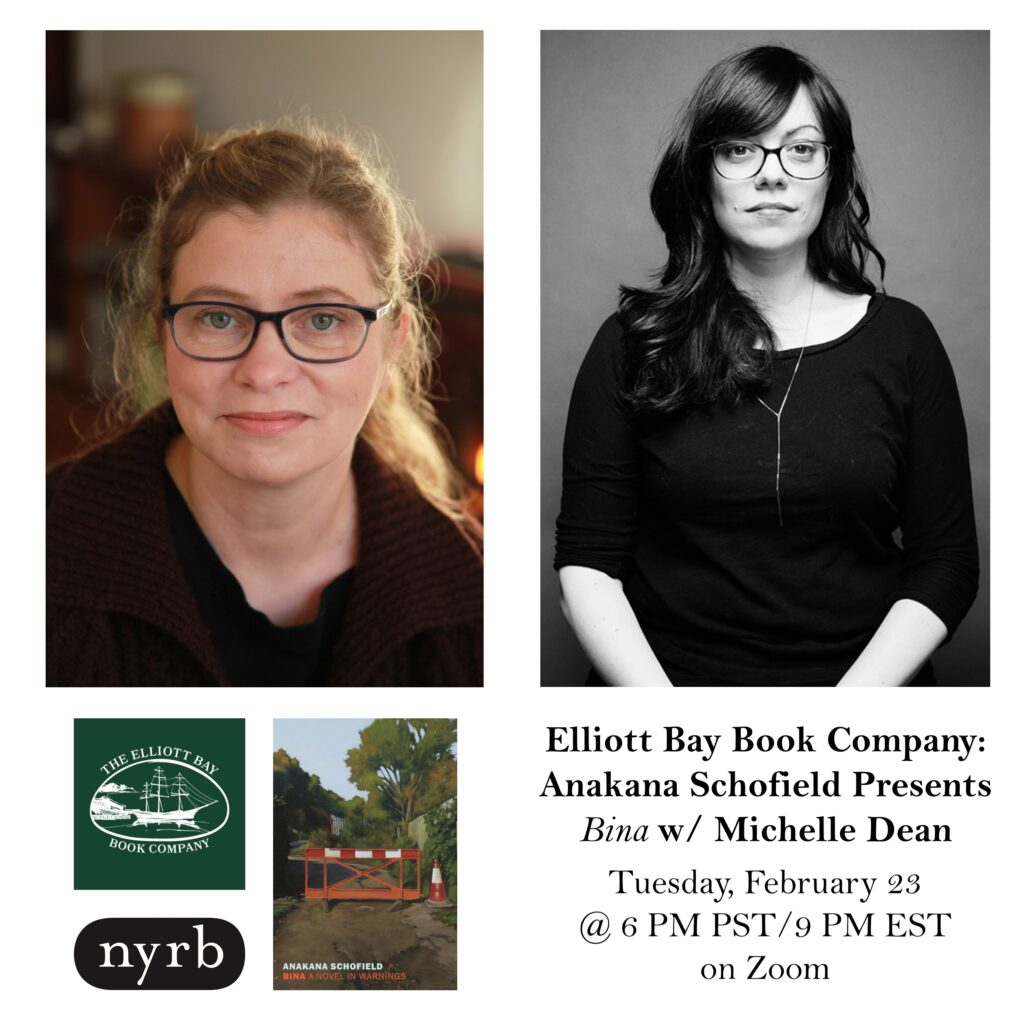 Read about all the shortlisted novels here
"Schofield is an unabashed agitator, a conjurer of discomfort: whether it's the agonised mind of a sex offender, or the sorrows of a disintegrating marriage. Like her absurdist compatriots – Beckett, Joyce, O'Brien – Schofield's novels are existentially confounding, syntactically wild, and buckshot with wit." The Guardian, Book of the Day
Anakana interviewed about BINA on CBC Sunday Edition
listen here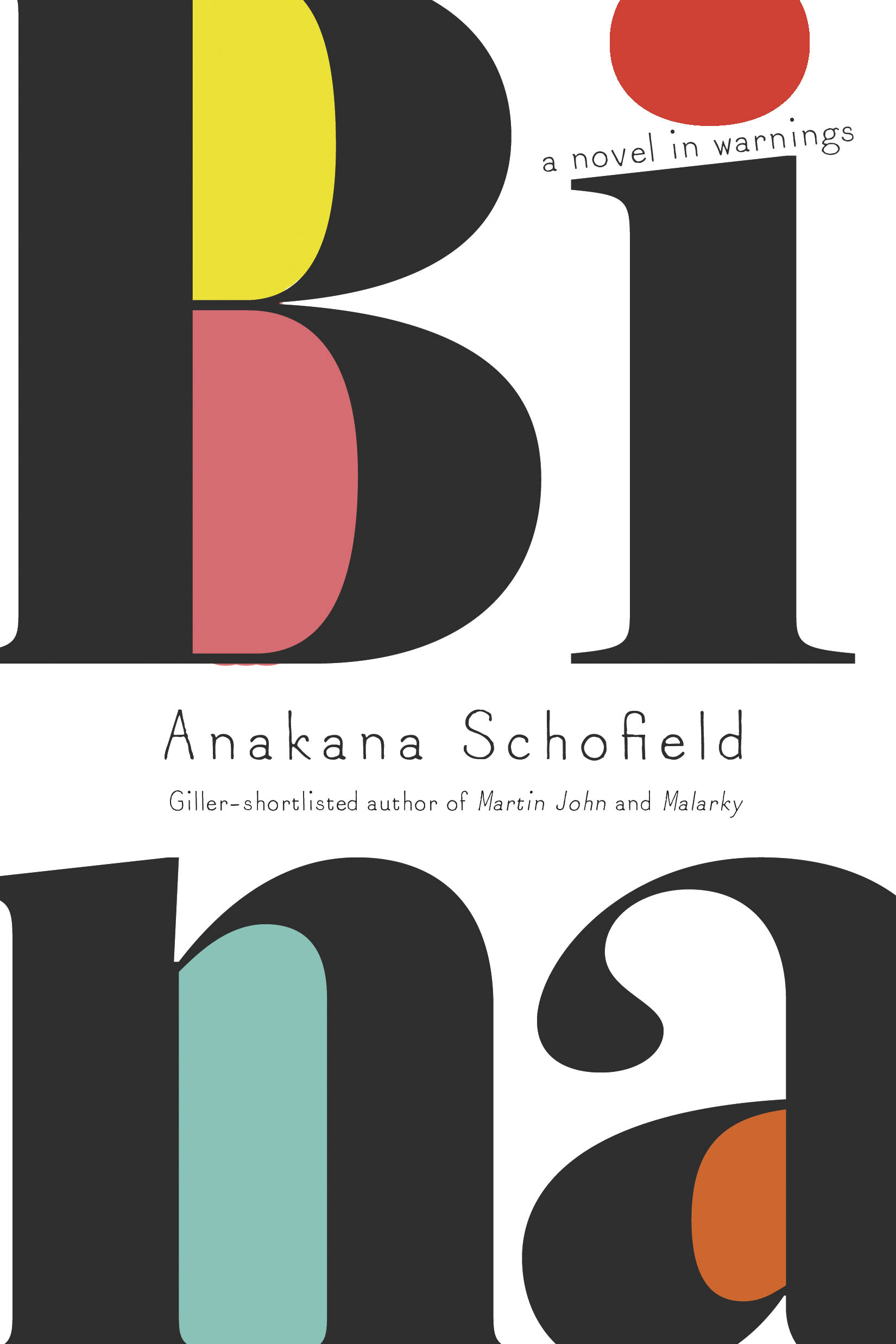 BEST BOOKS OF 2019
Macleans (and others) select BINA alongside Margaret Atwood's The Testaments, Helen Oyeyemi's wonderful Ginger Bread + Michael Crummey's The Innocents
More here
BINA AVAILABLE UK/IRE/NZ/AUS/SA/INDIA on MARCH 5, 2020
UK ebook is available here NOW!
The Irish Times review Bina "This style is entirely unique: Schofield's wit makes it slip down easily, yet her refusal to spell things out gives the reader plenty of work to determine what is going on. By not telling us explicitly what happened, we are embedded more deeply in Bina's character…watch out for this book, if you do manage to get hold of it. It will undo you."
Bina, Martin John and Malarky are all available in audiobook format now
BINA coming in paperback in Canada, March 2020
Fleet Reads to publish BINA in March 2020 in UK, Ireland & beyond! Beautiful news for our Bina
Quill and Quire Starred Review for Bina
"There is joy in watching a consummate prose stylist in complete control of her materials and sublimely confident in her sensibility…Schofield locates herself in the vanguard of a group of strong women writers – Rachel Cusk, Eimear McBride, Valeria Luiselli, Anna Burns – who are radically revising the novel's potential and pushing it forward as a form." Steven Beattie reviews Bina
The Globe and Mail 'A novel in warnings': Anakana Schofield's novel Bina addresses modern questions surrounding friendship and death
"In Bina, Schofield gives her readers a great deal of bonkers and entertaining – but Bina is so much more… It is a book that honours female friendship and its extraordinary gifts…" Read Marsha Lederman's profile-review of Bina here
The Toronto Star Anakana Schofield's new novel Bina asks: Would you help a friend to die?
"On the surface, Schofield's personal fascinations and delightful enthusiasm may seem disconnected from her novels, which are linguistic adventures grounded by bold, unconventional structures and dark humour. But they all reveal a deep interest in the human body, its functions and limitations." Read Sue Carter's full interview here
Advance praise for Bina:
"Insightful. Inventive. Hilarious. Genius."
—Eimear McBride, author of A Girl Is a Half-Formed Thing, winner of the Bailey's Prize for Women's Fiction, and The Lesser Bohemians, winner of the James Tait Memorial Prize
Anakana Schofield's BINA is a fiction of the rarest and darkest kind, a work whose pleasures must be taken measure for measure with its pains. Few writers operate the scales of justice with more precision, and Schofield is no less exacting in what she chooses to weigh. The novel's themes – male violence, the nature of moral courage, the contemporary problems of truth and individuality, the status of the female voice – could hardly be more timely or germane. Schofield's sense of injustice is unblinking and without illusion, yet her writing is so vivacious, so full of interest and lust for life: she is the most compassionate of storytellers, wearing the guise of the blackest comedian.
—Rachel Cusk, Giller Prize-shortlisted author of Outline, Transit and Kudos
"Intimate, disarming, and riotous, Bina is a searing exploration of one woman's soul that unwinds like a reluctant confession. Whether Bina is rescuing a ne'er-do-well from a ditch, taking a hammer to a plane or considering the dark request of her best friend, Schofield has created a compelling, practical everywoman—a woman who has had enough and is ready make a spectacle."
—Eden Robinson, Giller Prize–shortlisted author of Son of a Trickster
Toronto Star Spring Preview: 20 books I can't wait to read in 2019
Bina, Anakana Schofield (Knopf Canada, May 14) First things first: this is pronounced Bye-na, NOT Bee-na. Now that we've got that out of the way, Schofield has one of the most unique, most compelling voices in fiction.
Her first book Malarky won the Amazon First Novel award; her next, Martin John, was published internationally and shortlisted for the Giller. I can't wait to hear the voice of her newest character, in a book that's
being described as a "novel in warnings."
Deborah Dundas, Books Editor, Toronto Star
Quill and Quire Spring Preview
One of Canada's most stylistically provocative and innovative wordsmiths, Anakana Schofield returns in May with her third novel (a follow-up to the 2015 Scotiabank Giller Prize–shortlisted Martin John). In Bina ("That's Bye-na, not Beena"), Schofield presents the story of a straightforward Irish woman who has come under suspicion for a crime so serious she cannot even talk about it directly.
Steven W. Beattie, Quill and Quire
Maclean's: These are the books you need to read in 2019
Some reprieve should be provided by Bina, a mystery-haunted, blackly funny "novel in warnings" narrated by an anguished woman. It's by 2013 Amazon.ca First Novel Award-winner Anakana Schofield (Malarky), perhaps the most arrestingly distinctive writer in Canada, whose style and themes never remind readers of anyone else.
Brian Bethune, Maclean's
Bina, a woman at her wit's end, records her story on the backs of old envelopes. Her main subject is that of a tumultuous lifelong friendship, one filled with drama, trauma, love and joy.
Danielle Groen, Chatelaine
BINA FALL TOUR DETAILS: 2019
September 6-8, 2019 — Eden Mills Writers Festival
September 9-17, 2019 — I will be teaching at Pelee Island Writers Retreat (please contact Dawn for full details)
September 25-29, 2019 Kingston Writers Festival
September 29, 2019 Greenwood's StoryFest Quebec. (2pm)
More event details to follow, but I will be appearing at the following festivals in October/November: Calgary Writers Festival, Whistler Writers Festival, Vancouver Writers Fest, Ottawa Writers Festival, Toronto International Festival of Authors 40th Edition! And more…
Upcoming appearance at Toronto International Festival of Authors: Nov 3, 2019 12 noon
click here for tickets
Ottawa Writers Festival click here for details
Vancouver Writers Fest: Bina, Bunny & The Idiot + Reinventing the Novel
Calgary Canadiana Showcase and Whistler festival events

MARTIN JOHN SHORTLISTED FOR 2015 GILLER PRIZE!
MARTIN JOHN SHORTLISTED FOR THE 2016 GOLDSMITHS PRIZE!
MARTIN JOHN SHORTLISTED FOR ETHEL WILSON FICTION PRIZE!
MARTIN JOHN SHORTLISTED FOR THE REPUBLIC OF CONSCIOUSNESS PRIZE (UK)
MARTIN JOHN SHORTLISTED FOR THE RELIT AWARD
New York Times review Martin John "serious literary gumption…"
New Yorker review "Frenetic, risking-taking novel…Deliberately cryptic and bleakly funny"
Martin John receives Editors' Choice in New York Times
The Guardian (UK) hails Martin John "Funny, distressing and complicated"
"Schofield writes without judgment, making her new novel an exceptional, albeit uncomfortable, reading into the mind of a paranoid, compulsive sex offender." 5 stars from the UK Sunday Telegraph for Martin John!
The Irish Times "..a comic tour de force sustained by theatrical energy as well as linguistic and tonal cohesion…No one will want this novel to end."
The fabulous weirdness of Martin John – a novel composed by its protagonist, Kirsty Gunn reviews Martin John in The New Statesman
Irish Times interview October 2016
Irish Times Book Club pick for November 2015, RTE/Rick O'Shea's Book Club pick for November 2015, Irish Times Best Books 2016, Sunday Business Post Best Books 2016 roundup.
Best Books of 2015
Martin John selected as No. 3 on the National Post 99 Best Books of the Year, No. 1 Fiction Pick in Toronto Star's Top 5 Fiction of 2015, the Globe & Mail's "Globe 100", Wall Street Journal's Year's Best Fiction it's included twice (!) on the Vancouver Sun's Top 20 Books of the Year, Quill & Quire's 2015: Books of the Year, CBC Books Best Books of 2015, Toronto's NOW Magazine's Top 10 Books of 2015, Large Hearted Boy's Favourite Fiction of 2015, Edmonton Journal's 5 Most Memorable Reads of 2015 & more.
"The novel all your favourite novelists will be reading."
The Globe and Mail
"The 20 books you'll be reading – and talking about – for the rest of the year"
Prize fighter: Writer Anakana Schofield's incredible rise – Globe and Mail profile by Marsha Lederman
Read an exclusive extract here
The Globe and Mail
"This is an important and brilliantly unconventional work, offering a glimpse into a mind few can ever, or would ever want to, fully understand." Publishers Weekly Starred Review
Radio interview with Shelagh Rogers on The Next Chapter listen here
National Post profile/interview
The Body Problematic: A Conversation Between Lidia Yuknavitch and Anakana Schofield (Electric Lit)
Photos from 2015 Giller Prize Gala
Book Tour details North America and Europe
Malarky 2012
Winner of the 2012 Amazon.ca First Novel Award
Winner or the 2013 Debut-Litzer Prize For Fiction
Finalist for the Ethel Wilson Fiction Prize
A Barnes and Noble Summer 2012 Discover Great New Writers Pick
CBC Books 10 Canadian Writers to Watch: 2012
Named on 16 Best Books of 2012 lists
Malarky Reviews
"Malarky is a terrific read, a brilliant collision of heartbreak and hilarity written in a voice that somehow seems both feral and perfectly controlled. Anakana Schofield's Our Woman takes a cool nod at Joyce, then goes her own way in one of the most moving and lyrical debut novels I've read."—Jess Walter, author of Beautiful Ruins
"A caustic, funny and moving fantasia of an Irish mammy going round the bend." — Emma Donoghue, author of ROOM
"Anakana Schofield is part of a new wave of wonderful Irish fiction—international in scope and electrically alive."—Colum McCann, author of Transatlantic
"Good writing and dark wit always excite me and they come together thrillingly in this book. It has a quiet grip on the strangeness of the interior and exterior worlds of love and politics. I delighted in the writing and the scope."—Jenny Diski, author of What I Don't Know About Animals.
"Clever, witty, imaginative and intriguing, Malarky is a stunning debut from an exceptionally good writer." The Irish Times
"We become comfortable saying that there's nothing new, and then something like Malarky comes along, which is new and old and different and familiar, but ultimately itself, comfortable in its own skin, wise and smart and crazy-sexy or maybe sexy-crazy—well, you just have to read it to understand. It's a novel that sets its own course, sure and steady, even when it seems like it might be about to go over the edge of the world."—Laura Lippman, author of When She Was Good
"This is the story of Anakana Schofield's teapot-wielding 'Our Woman': fretful mother, disgruntled farmwife, and—surprisingly late in life—sexual outlaw/anthropologist. Everything about this primly raunchy, uproarious novel is unexpected—each draught poured from the teapot marks another moment of pure literary audacity." —Lynn Coady, author of The Antagonist.
"Malarky spins and glitters like a coin flipped in the air—now searingly tragic, now blackly funny. The language is joyful and exuberant, the characters thoughtful and deeply felt. Brilliant, brilliant, brilliant."—Annabel Lyon, author of The Golden Mean.
"Anyone bold enough to name her book after a word so loaded deserves our attention. In Malarky Schofield pulls her long line tight—and lets go when we least expect it."—Michael Turner, author of Hard Core Logo
Canada AM First Novel Award interview